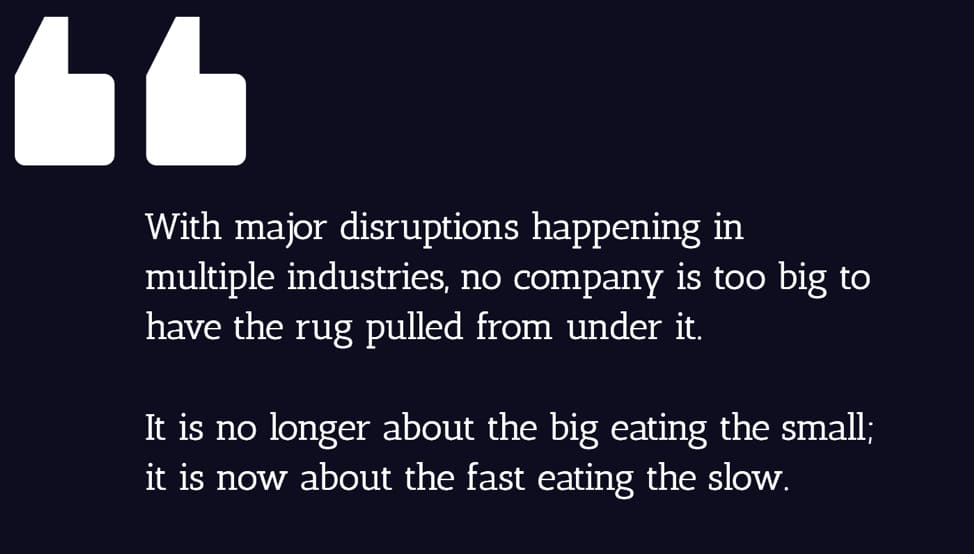 Modern CFOs are living in interesting times.
Just as their role is widening beyond the finance function, and a more strategic view of the business is expected of them, here comes a whole tsunami of technological changes that are promising to disrupt the hard-earned comfortable seat in the C-suite.
Technology inevitably means change and disruption. This is especially so for the more traditional and well-established firms in any industry, anywhere. Unrelenting market pressure from the more nimble, competitors riding new waves of technology are making even the most stable businesses think twice about their future in trepidation.
These are the questions on the minds of Boards of Directors everywhere; and in the minds of CEOs, CFOs and other C-suite denizens.
Can our business withstand the competitive pressure from newly minted business models?
How are the forces of digital transformation going to affect us?
How are we going to respond to them?
Will our loyal clients and customers abandon us to the lure of more nimble, digitally savvy competitors?
Will we have to change?
You don't even need to ask the last two questions, really, because the answer is Yes.
As for the first three, that depends on a whole lot of factors both external to your business and to your internal strategic decision making.
Business disruption and CFOs under pressure
It is in this context that we should read the MuleSoft Connectivity Benchmark Report of 2018.
It confirms a lot of things you, as a CFO, have known for sometime. It should make you feel better because the report makes it clear you are not alone. You are hardly in the minority as a CFO and IT decision maker.
As MuleSoft founder Ross Mason points out, "With major disruptions happening in multiple industries, no company is too big to have the rug pulled from under it. It is no longer about the big eating the small; it is now about the fast eating the slow."
Don't let your company become a digital loser
There is much pressure to ensure that your company does not end last or near the last in the race of digital transformation. This is the pressure you feel as a CEO, CIO, CFO or other IT decision maker. [We are putting CFOs here because they are often key IT decision makers in smaller and mid-sized firms who may not have dedicated CIO positions.]
Companies are seeking digital transformation initiatives to grow and flourish; or at least keep up. Among the many hundreds surveyed across the globe, including in Australia, three quarters (74%) say they are undertaking digital transformation projects currently. Another 16 percent planned to do so the next year. That is 90 percent of companies in the survey!
What do companies expect from digital transformation?
According to the survey, Here are the top goals companies have for their digital transformation initiatives:
Increase IT's operational efficiency (83%)
Improve customer experience (71%)
Increase business efficiency (70%)
Introduce new products and services faster (58%)
Improve employee experience (51%)
Improve partner experience (27%)
Did companies expect a revenue impact from digital transformation?
Did these digital transformation initiatives affect their revenues? There was a resounding Yes from IT decision makers the world over, including many in Australia. Over 90 percent said they expected a revenue impact.
When? Most companies and their IT decision makers are expecting revenue improvement within the year.
Around 26 percent said the expected revenue impact was immediate. Another 29 percent said it would be felt within 3 months while 26 percent said the revenue impacts of digital transformation are expected within the year. A few (10%) were expecting the revenue impact to be felt in the next 3-5 years.
What are your chosen paths to digital transformation success?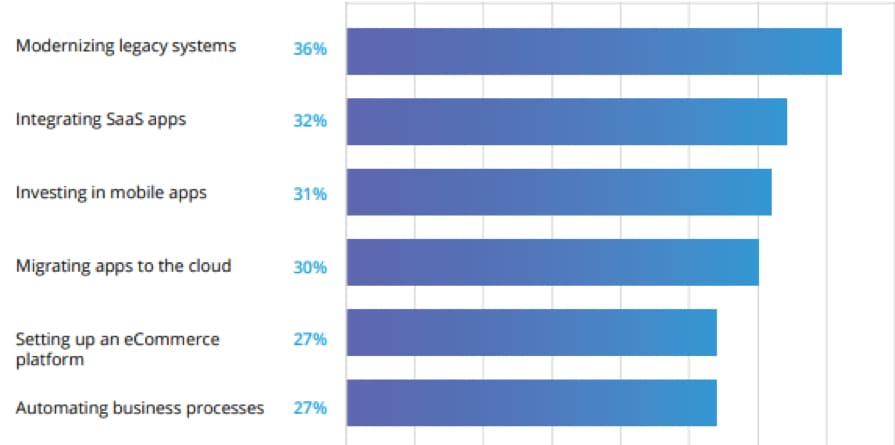 Source: Mulesoft Connectivity Benchmark Report, 2018
The top six initiatives companies plan to work on are:
Modernizing legacy systems
Integrating SaaS apps
Investing in mobile apps
Migrating apps to the cloud
Setting up an eCommerce platform
Automating business processes
More than one in five (over 20%) IT decision makers choose one or more of the above. A minority were also thinking of developing an omnichannel strategy, improving customer onboarding, introducing new products and services faster, improving sales and employee productivity, improving employee onboarding and employee productivity. A few (less than 10%) were interested in rationalizing their product portfolio, improving partner onboarding and reconciling systems acquired through M&A.
Companies face immense barriers to digital transformation
All worthy causes, but achieving these goals is not easy. The IT decision makers say they are facing immense barriers to digital transformation, even when the will and the ambition is there within the business.
And the major barriers are NOT what you thought they were (unless you are a CFO or CIO and have experienced the travails of digital transformation first hand).
The top challenges are integration, lack of resources and misalignment between IT and the rest of the business.
Integration
This is the biggest sticking point, reported by CIOs and IT decision makers in the survey. Why, because most of the companies surveyed were on average using 1,020 individual applications across their business. And just a handful (29% on average) are actually connected together.
Have you ever tried integrating two applications? If you have, you know that point to point integration by custom coding the applications and APIs is a tricky business. Imagine doing that for thousands of applications across a business.
You don't want to think about it? Well, if you are a CFO or CIO, it is your job on the line. But the feeling is mutual. A majority of the IT decision makers in the survey said they believed challenges posed by integration are hindering or slowing down their digital transformation efforts. Four in five (81%) said point-to-point integration was their biggest IT headache. Integration sucks in lots of time and resources and takes too long to produce results. There is difficulty in deploying apps across cloud and on premises. There is a proliferation of end points.
We see the problem. We guess everyone does, including your CEO and the Board of Directors.
But it is not like you can just give up on digital transformation. To retain sanity most are seeking to looking at this as a huge business opportunity.
Imagine how much you can innovate and increase business efficiency through the integration of more business applications business-wide.
The MuleSoft IT Benchmark report of 2018 concludes, and we agree too, that the companies face an API imperative. You have no choice but to go there.
There is great profit potential in expanding your business capabilities onto a digital platform.
The profit potential of integration
The profit potential of integration comes from two sources.
The ability to mine and leverage valuable internal data you already have for exploiting growth and strategic opportunities is just one part of the equation. Let us say that is the more challenging part.
It is far easier for you to unlock the productivities every day. There is much productivity to be gained in making it easier and faster for your people to get their work done. This is a huge benefit when everything is on one standardized platform. No data re-entry. No checking and re-checking. No human error creeping in at every point.
Then, there is shareability. There is transparency. There is immense potential for automation and time savings on an ongoing basis.
Benefits companies have already derived from leveraging APIs
Here are the benefits the companies in the survey say they've gained already through leveraging their APIs:
Increased productivity (58%), innovation (48%) and employee engagement and collaboration (43%). Over one third of businesses said they were able to speed up meeting demands from their divisions (Lines of Business), increase agility in IT self-service and reduce operational costs. Three out of ten companies reported experiencing revenue growth as a result.
That is what they've achieved already, despite the challenges of integration. Imagine a future will far less resistance by way of integration? Think of the potential of a seamlessly integrated company-wide platform.
Lack of resources (and time) for digital transformation work
The second biggest challenge to digital transformation is having to do more with less and less time and resources.
Less than one in ten reported that they'd get a significant increase (over 10%) in their IT budget to reach these ambitious goals. The majority (51%) were expecting a less than 10% increase while another 20% expected their budgets would remain the same, despite more and more being asked of them.
So how did that go last year? Not well, naturally, it seems. More than two thirds of survey participants said they were unable to complete and deliver all of the projects that were asked of them. Just over one third (34%) reported they completed it all.
Misalignment between IT and the rest of the business
That is the third challenge that plagues IT decision makers in making their business' digital transformation journey a success.
There is no easy way to solve this. But the way we see it, competition and technology are going to make this critical realignment another imperative.
As more and more CIOs and CFOs get involved in IT decision making and strategic management of businesses they have to work more closely with other functional heads in close-knit teams. That is going to melt away some of the IT vs finance vs the company frictions because technological pressures and competition drive more and more functional C-suit members to abandon their functional silos to work in together. Orchestration, as Gartner would say, is the way to survival. In such a context, these misalignments are likely to become less and less. It is just a matter of time.
So how are your digital transformation efforts faring?
We would love to hear from you. Let us start a dialogue on how companies can improve their revenue, profits and growth through digital transformation initiatives.
The MODLR Team